Introduction for Health Promoters
Tools of Change provides a very accessible set of resources for health promotion, including a planning guide, specific tools of change, and case studies. It works within a psycho-social model in comprehensive ways to address four of the five action areas within the Ottawa Charter.
This introduction reviews Health Promotion in brief, and explains how its fundamental principles are built into this site.
Choose a topic to read from the following choices:
Health promotion has had a very rich history internationally and in Canada. There are many variations in how it is defined and "mapped". However, there are some statements that are nearly universally endorsed. These include the World Health Organization's definition of health promotion, The Ottawa Charter, and the Hamilton-Bhatti model.
The following definition has been excerpted from WHO's Health Promotion Glossary.
Health promotion is the process of enabling people to increase control over, and to improve their health. Health promotion represents a comprehensive social and political process, it not only embraces actions directed at strengthening the skills and capabilities of individuals, but also action directed towards changing social, environmental and economic conditions so as to alleviate their impact on public and individual health. Health promotion is the process of enabling people to increase control over the determinants of health and thereby improve their health. Participation is essential to sustain health promotion action.
In 1986, at an international gathering, the Ottawa Charter was created and endorsed, and has become a blueprint for health promotion activities across the globe.
The Ottawa Charter called for action in five areas:
Building healthy public policy,
Creating supportive environments,
Strengthening community action,
Developing personal skills, and
Re-orienting health services.
This site addresses the first four of these areas:
In February 1996, Nancy Hamilton and Tariq Bhatti published an integrated model of population health and health promotion. The center-point of this paper was a new model that captured the who, the what and the how of health promotion.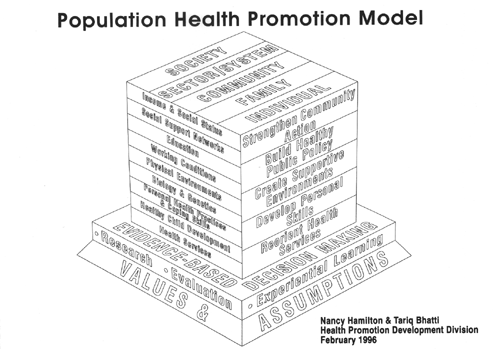 The top of the cube addresses the who, and emphasizes that change occurs at many levels ranging from individuals through to the societal level. Correspondingly, this website takes a multi-sectoral comprehensive approach. While the primary focus of this site is the individual, other levels and settings are addressed directly, including:
The face of the cube addresses the what, emphasizing that there are multiple and broad-ranging determinants of health. This site focuses on four of these determinants:
The right hand side of the cube outlines the how of health promotion, and incorporates the five action areas outlined in the Ottawa Charter (see This Web site and the Ottawa Charter).
The Case Studies section of this site brings the Planning Guide and Tools of Change to life. To search for case studies that illustrate particular points of interest, use the site's search capabilities.
Use the navigation bar at the top of the screen to explore the various sections of this site. The following are some highlights for Health Promoters.
The Planning Guide:
provides step-by-step instructions with plenty of examples, for planning your social marketing programs,
enables you to create and print out a skeleton communication plan, which can be developed over a number of Internet sessions if desired,
places a strong emphasis on community-based social marketing, affirming the important value of individuals, working collectively, "taking control over" things that determine their health, and
stresses evidence-based decision-making (see Getting Informed and Measuring Achievements).
The Tools of Change section:
provides step-by-step instructions with plenty of examples, for making use of specific tools of change,
primarily addresses personal health practices and coping skills, and
also addresses social support networks (see Norms Appeals and Peer Support Groups) and creating a healthier physical environment.
The Case Studies section:
brings the first two sections to life, with success stories illustrating how the planning approach and the use of multiple tools led to success, and
can be searched by topic area, location, key words, and other factors.